IRTG 1243 Customs Retreat October 5-7, 2016
Get a peek at the peak ...
05.10.2016 – 07.10.2016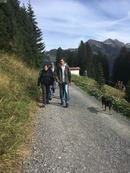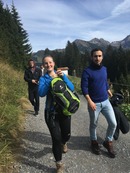 Our first IRTG retreat from October 5-7, 2016 was in the Söllerhaus in Kleinwalsertal on the German/Austrian border in the Allgäu Alps.
Customs has a double meaning both relating to cultural mores and to officially entering a foreign country. This applies well to the initiation process of starting PhD studies, coming to a new lab or completely new environment, learning new university cultures, and crossing scientific borders.
Our goals were to get to know each other and get to know the spectrum of research covered in our SFB. During this informal symposium, we put our skills and knowledge to work, as speakers and as an audience.