Medical students awarded the 2017 José Carreras-DGHO scholarship for doctoral research
IRTG members Sonja Boßmann (AG Subklewe) and Christian Matek (collaboration Spiekermann/Marr) receive scholarships for leukemia research.
09.03.2017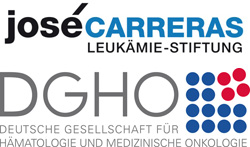 We congratulate two medical students working on research projects within the SFB 1243, who were among seven recipients of the 2017 scholarships for doctoral research from the José Carreras Leukämie-Stifung and the Deutsche Gesellschaft für Hämatologie and Medizinische Onkologie. Sonja Boßmann, working in the lab of Marion Subklewe (LMU Medizinische Klinik und Poliklinik III), and Christian Matek, working in a collaborative project with Karsten Spiekermann (LMU Medizinische Klinik und Poliklinik III) and Carsten Marr (ICB, Helmholtz Zentrum München) will both receive funds to allow them to concentrate on their respective doctoral research projects over the next year.
The José Carreras Leukemia Foundation supports research efforts in the battle against leukemia, in particular by supporting young scientists for basic research. www.carreras-stiftung.de.
Press Release (in German) from the DGHO
Pressemitteilung zum Download (pdf, 1 MB)