Leibniz-Gründerpreis 2018 is awarded to the Tubulis Technologies Team
SFB Associate Jonas Helma-Smets and Chair/Project Leader Heinrich Leonhardt are members of the prizewinning team
21.03.2018
The scientist team from the spin-off initiative Tubulis Technologies are the recipients of this year's Leibniz-Gründerpreis. Professsor Heinrich Leonhardt (A01), Dr. Jonas Helma-Smets (associate) from the LMU Munich, Dr. Dominik Schumacher and Professor Christian Hackenberger from the Leibniz-Institute for Molecular Pharmacology (FMP) Berlin are the founding members of Tubulis Technologies, a spin-off company venture aiming to improve targeted cancer treatment by developing specific and efficient therapeutic immunoreagents. The award is endowed with € 50,000 for further development of the company's endeavors.
See the LMU press release (German).
See tubulis.com for more information.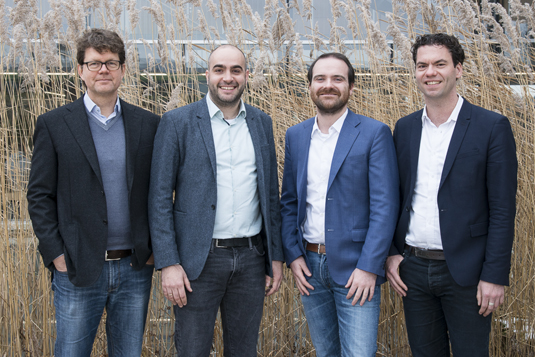 Prof. Dr. Heinrich Leonhardt, Dr. Jonas Helma-Smets, Dr. Dominik Schumacher, Prof. Dr. Christian Hackenberger